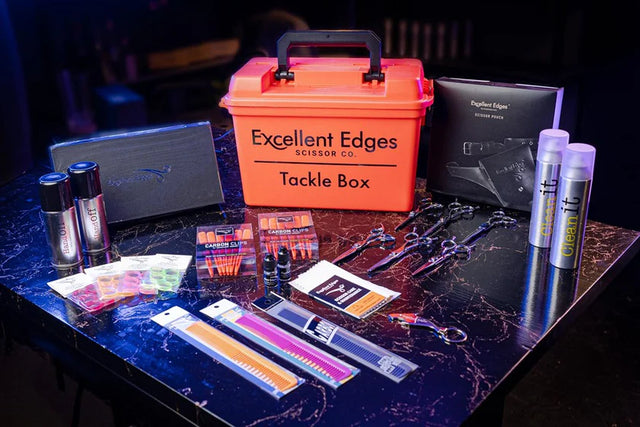 Select Glider Phantom | Hair Cutting Scissor (Size)
Select Scissor Case 8 Pair (Colour)
Select Carbon Clips (COLOUR)
A choice of 6 Fish Kit or similar scissors in a tackle box.
Pre selected in the kit already is the
Stingray
Mantaray
Big Mouth Marlin
Crocodile
Barracuda
Phantom - please choose size
You can also customise this offer to your individual needs after purchase. In the notes at time of purchase please let us know you would like to do this and we can contact you to arrange.
An 8 pair leather case, a genuine leather pouch to hold your scissors while you work, 3 combs of your choice, 2 packets of clips, a can of Clean It and Hand Off, Finger Inserts for all your scissors, Oil, Chamois and the title of Fisherman's Friend.
What does this Fisherman's Friend title mean, you ask???… Great question. You'll receive a lifetime 10% off all purchase from our store and get 5 years free unlimited servicing on all the scissors you've selected in your Tackle Box.
It's over $9000 of value, all for just $5500
Once you place your order, one of our expert team members will contact you and do a personal consultation to make sure you select the best possible kit for your needs.
THIS AMAZING OFFER IS ONLY AVAILABLE FOR LIMITED TIME